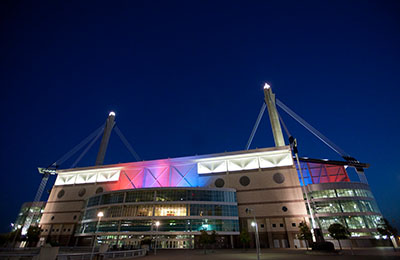 A modest-sized group of Sky Ryders alumni have attended the DCI Southwestern Championship in San Antonio over the past several years, and we've had a really great time! We're hoping to get a really big group together this year for a nice Texas-style reunion. The corps perform on Saturday, July 22, 2017, but there's usually a fair amount of people around for dinner and/or drinks along the Riverwalk on Friday evening. After a full day of drum corps, we meet at the historic Mi Tierra Café until well after midnight.
Important Update for 2017: The Alamodome will have a clear bag policy in effect for this event, restricting the size and style of bags that will be permitted within the venue. Here's some additional information on this new policy.
Keep an eye on the Sky Ryders Alumni Facebook page for details about hotel discounts as well as details for the get togethers along the Riverwalk on Friday and Saturday.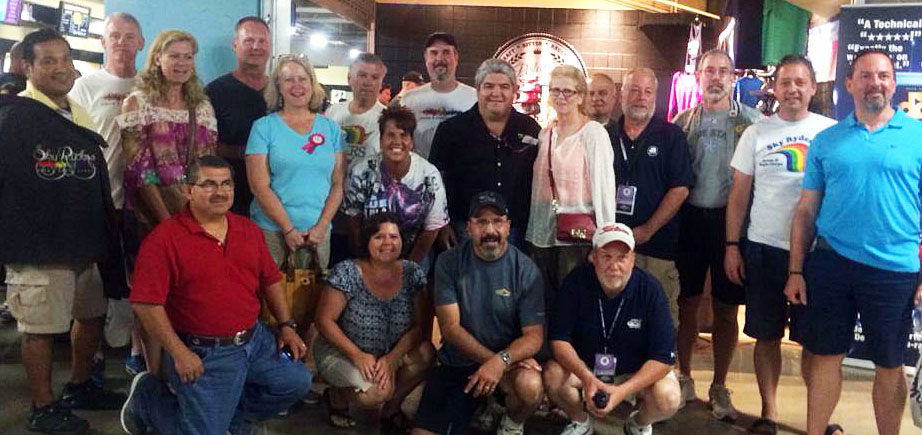 In addition to being held in the impressive (and air-conditioned) Alamodome, this is a huge regional competition, so there will be 24 corps performing in a single day, starting at 9 am on Saturday. Here's an alphabetical list of all the corps who are scheduled to be there in 2017.
Blue Devils – Concord, CA
Blue Devils – Concord, CA
Blue Knights – Denver, CO
Blue Stars – La Crosse, WI
Bluecoats – Canton, OH
Boston Crusaders – Boston, MA
Carolina Crown – Ft. Mill, SC
Colts – Dubuque, IA
Crossmen – San Antonio, TX
Genesis – Austin, TX
Guardians – Houston, TX
Jersey Surf – Camden County, NJ
Madison Scouts – Madison, WIY
Mandarins – Sacramento, CAY
Oregon Crusaders – Portland, ORY
Pacific Crest – Diamond Bar, CAY
Phantom Regiment – Rockford, ILY
Santa Clara Vanguard – Santa Clara, CAY
Seattle Cascades – Seattle, WAY
Spirit of Atlanta – Atlanta, GAY
The Academy – Tempe, AZY
The Cadets – Allentown, PAY
The Cavaliers – Rosemont, ILY
Troopers – Casper, WY